China Science and Technology Network (CSTNET) is an academic, non-profit research network under the leadership of the Chinese Academy of Sciences. It is the birthplace of the Internet in China and is managed and operated by Computer Network Information Center in Chinese Academy of Sciences. It connect all the institutes in CAS, many national research institutes, scientific data centers and more than 80% national research infrastructures in China. CSTNET has independent international exports, providing network services mainly for the national research institutions, governments and high-tech enterprises.
About the national connections, CSTNET coverage more than 30 provinces, municipalities and autonomous regions nationwide, there are total of 13 regional sub-centers in Beijing, Shanghai, Guangzhou, Changchun, Shenyang, Nanjing, Wuhan, Chengdu, Kunming, Xi 'an, Lanzhou, Xinjiang and Hefei and more than 20 independent institutes around China. Core network bandwidth is 100G, wan bandwidth is from 600M-10G, the end users has reached to one million. About the domestic connections, CSTNET has established direct high-speed connectivity with China Telecom, China Unicom and China Mobile, the three major domestic Internet operators. It has high-speed connectivity with the education network CERNET at 60G, and 3*10G connections to the national domestic exchange points in Beijing, Shanghai and Guangzhou. The total domestic Internet export bandwidth has reached 121G.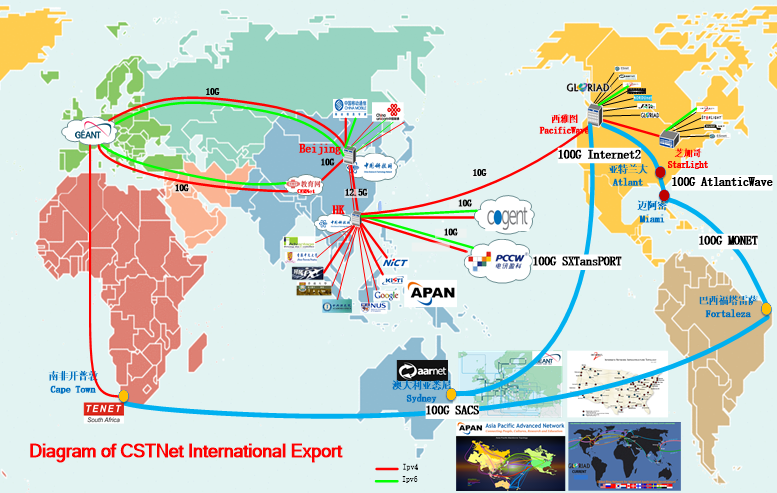 CSTNET international resources
International resources are the dominant feature of CSTNET. We have successfully supported a number of international cooperation projects in high-energy physics, astronomy and biological research, etc. To support of the intercontinental astronomy joint testing, we coordinated with our international partners build a 100G route from Africa to the United States via South America from South Africa. CSTNET has established open exchange points at China, Chicago and Seattle in the U.S.. We cooperated with European research network Geant, built a 10G land cable from Beijing to Frankfort, and has many international lines to North America, Europe and Asia-Pacific region. The total international export bandwidth has reached 113G.